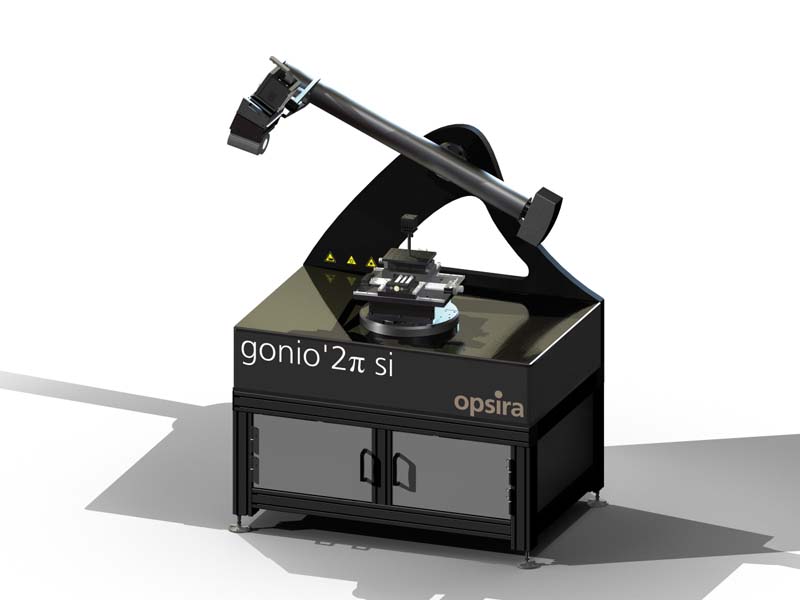 Goniophotometers
The gonio'2pi and gonio'4pi family comprises very accurate and robust machines for the near-field measurement of sources or luminaires as well as for scatter measurements (BSDF).

opsira's goniophotometers obtain angular dependent photometric parameters around a light source, a luminaire, a detector or a material sample. In-Plane goniophotometers as well as 3D-goniophotometers up to 4-axis are available.
gonio'2pi
The compact construction of the gonio'2pi allows measurement of the hemisphere and this 4-axis goniometer even enables a fully automated complete measurement of an anisotropic scatter sample. 

gonio'4pi
The gonio'4pi is available for full sphere measurements without needing to rotate the sample. Data can be collected for approximately 99.5% of the 4π solid angle.
Applications:

Near-field goniophotometry
Far-field goniophotometry for small sources
Scatter measurements (BSDF)
Detector Options:

Photometers
Spectrometers
Spectroradiometers
Luminance cameras
High dynamic CMOS detector
Environmental detectors

All goniophotometer types work with an angular accuracy of 0.0001º.
Over 20 configurations are available.